Last year was all about change. In my exploratory approach to painting, I am always on the lookout for new spin-offs, fragile little shoots of new possibilities appearing on the canvas or elsewhere in my studio. Through a somewhat frightening journey away from known territory, I arrived at a new place. When a contemporary artist's work takes a turn, it is an exciting progression for the artist but perhaps a mystifying maze for those who have followed the artist's work long term. When I moved from figurative work to abstraction, I know it was bewildering for those who had been watching. Of course many very successful artists painted in the exact same form for all their mature careers. This is a very difficult thing to do when you want to exercise creative freedom by veering off the established path. I can't resist!
I have quite gone off the rails. Drawing has always attracted me in a big way and in my new work drawing is for the most, part still abstract. I found that I needed to change mediums in order to maximize the drawing element so the new work is in the new medium of oil on metal plate. Something I've never tried before but am giddy with the freedom offered in this medium.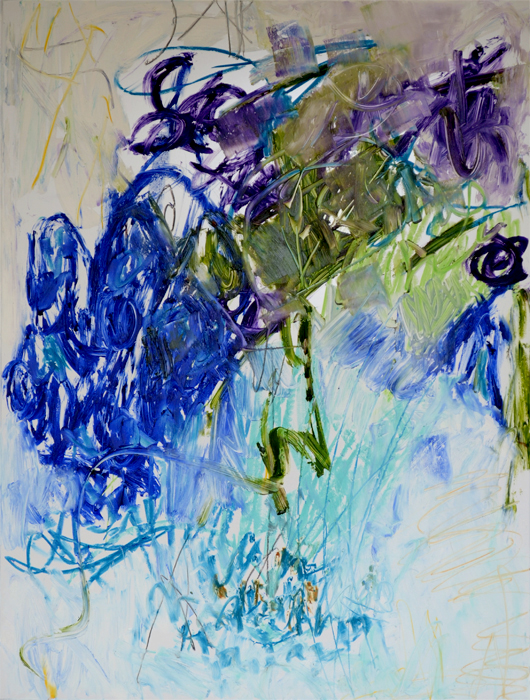 Everybody Loves Blue oil on metal 16 x 20 in. © W.Skog
Some of the pieces in this series which I think of as the Coloring Book series, will be exhibited in the Massey Gallery at the Art Gallery of Greater Victoria, opening March 28. You can see another larger piece here.
---
Being in the Brush: the power of the mark
Throughout history, the way the artist lays down the paint has been closely examined, criticized, praised, and admired. Each artist leaving for all time, a mysterious trace through the communications of the brush. Joan Mitchell, Monet, Van Gogh, Basquiat, Twombly are painters whose brushstrokes I admire and have assimilated into my own expression. Read on
See if you can recognize the brushstrokes of the artists mentioned above in the sections of their paintings below: (one of these samples is from my work) Winners are entitled to a free trip around the world.


"Every artist dips his brush in his own soul and paints his own nature into his pictures." -Henry Ward Beecher
who wins
the race
in the artworld?
The book, Seven Days in the Art World, was recommended to me and it started to change my life, my view of reality. About three quarters of the way through the book, I had to stop reading, preferring my fantasy art world to the one so candidly described by the author, Sarah Thornton. According to the the New York Times review "Thornton spent five years air-kissing her way through art fairs, auction houses and artists' studios as a 'participant observer' intent on decoding the manners and mores of this globe-trotting Prada-clad tribe. What she learned, among other things, is that wealthy collectors buy expensive works of art for a variety of reasons -- vanity, social status, an appetite for novelty and, most important of all, an acute excess of money. As one of her auction-house informers bluntly puts it, "After you have a fourth home and a G5 jet, what else is there?"
but wait!
Before you throw up your hands saying, "I knew it, I knew it, I just can't afford to buy artwork', let me take you on a strange journey, come visit my fantasy art world where beautiful art that will continue to delight and inspire for generations is generously available to almost anyone. Welcome to Canada where it's not the best place to be as an artist with champagne tastes but a great place to be a collector; where you can still get a Riopelle for well under a million dollars.